Suicide Machine
By Dan Wood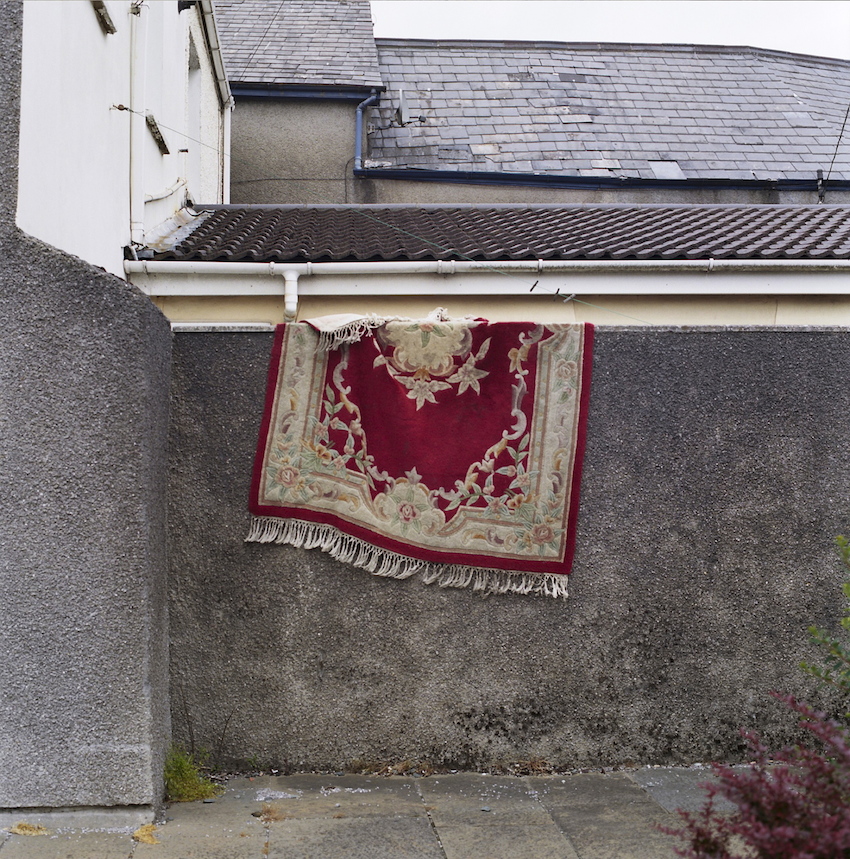 How did you choose the term "Suicide Machine" to describe this series? Once you chose the title, did it have an impact on what or how you photographed? Did this title affect the way people have responded to your series?
Originally the project was about the skateboard scene/culture in Bridgend (I'm an ageing skateboarder) and the narrative was going to be about how skateboarding saves lives – metaphorically.
I had already made a series about the South Wales skateboard scene, so I decided that I would step out of my comfort zone and make something completely new, with a new narrative. My wife was pregnant with our first child at the time so I wanted to focus it around that. The title did have an impact on what I shot. At first I found myself shooting mostly depressing scenes which were photographic cliches, and I was determined to avoid that. So I found myself going out on sunnier days and looking for more colourful scenes (this was my first ever colour project). The narrative was evolving all the time and I found myself constantly learning new things too.
The response to the series was generally good, although I was accused (on Twitter) a couple of times of glamourising suicide and being insensitive, which really made me angry as they obviously hadn't read the project synopsis and were jumping to conclusions due to the title. I did feel though that I was entitled to make a series about my hometown and call it whatever I liked, and it was this that carried me through most of the time. The project was not directly about the suicides, it was about a town synonymous with suicide, and I kept having to explain that.
What was your experience like of publishing Suicide Machine?
The whole experience was pretty straight forward. I was very lucky in fact. The series had been featured on a popular blog called Another Place Magazine and the blog creator, Iain Sarjeant, emailed me out of the blue to tell me that he was starting a publishing house called Another Place Press – which would publish small, editioned, high quality, affordable photo books – and asked would I be interested in Suicide Machine being one of the first titles. Of course it was a no-brainer, the only downside being that we had about 6 weeks to put it all together, which was a test of character, especially as I had a trip to Iceland planned. But thankfully everything fell into place without incident and we managed to make the book exactly how I wanted it. I had just finished the project after 3.5 years working on it, so it was perfect timing; the book sold out within a month.
How has the modern omnipresence of photography influenced your artistic choices?
I've been constantly taking pictures for over 20 years and it's something I will do until I die. I have to take pictures every day. The world is drowning in photography and I love it and hate it at the same time, but for me, putting a roll of film in a camera and going for a wander is what keeps me sane, and now that my daughter is old enough to come wandering with me, it's just perfect.
Trying to get noticed these days is tough, but in some weird way this has helped me, as I now prefer to dig in deep and just make work regardless of the fact if anyone sees it or not. I'm done with constantly spending time on social media when the time could be used constructively. I saw a quote once that said "If a project is good enough, people will discover it" and that has been my mantra for a while now. I truly believe if work is good enough it will float to the top regardless of social media presence. This inspires me to just do the best I can and if certain projects of mine don't get noticed, then they're obviously not good enough.
What are you working on now?
I'm working on a project called "Gap in the Hedge – The Bwlch," which is well under way. The series explores a mountain pass that connects Bridgend to the South Wales Valleys. It is a reflection of a journey I made with my mother every Saturday to visit relatives when I was little. The pass itself was built in the 1920s and provided a lifeline for those "stuck" in the valleys, especially when it came to employment opportunities. I've also decided to include the immediate villages on each side of the pass in the project, so I think it's going to be interesting to engage with the people of these villages and find out more about the pass and how they feel it has benefitted them in whatever way. I'm giving myself 2-3 years to complete this.
Born in 1974, Bridgend, South Wales, UK, Dan Wood – a self taught photographer – discovered photography in 1995 through skateboarding and the culture that surrounds it. Inspiration comes from a wide subject matter and although diverse, he considers himself predominantly a documentary photographer – shooting stories in both traditional and contemporary approach. His work has been featured in many publications including CCQ, Ernest Journal and Black & White Photography. He has participated in over 45 exhibitions both nationally and internationally; including 5 solo shows. Visit his website here.